Introspective Art by Aurora Mazzoldi
Aurora Mazzoldi's paintings put on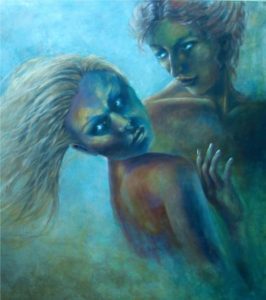 canvas what happens inside ourselves. They describe interactions (transactional analysis defines them as "games") between forces (something vaguely similar to the sub-personalities of Assagioli, the founder of Psychosynthesis). To do this, the Mazzoldi uses acrylic paints. She paints in a romantic way what happens under the surface of ourselves.
Acrylic painting
Why acrylic paint? Acrylic is a modern, practical and flexible medium. It allows to imitate both the nuances of the watercolor and the impact of the paint with spatula of the oil colors.
Romantic art
Why romantic art? Romance belongs to the nature of this painter, is her way of interpreting life. Do you remember the definition of romance given by Baudelaire? He said romance is a "way of feeling." And the paintings of Aurora Mazzoldi express precisely a way of feeling. For this reason in New York she was defined by the art critic Maurice Taplinger "a contemporary romantic".
A press release of the Agora Gallery (New York) of 2009 clarifies:
"Although her use of dramatic mood is drawn directly from the Romantic tradition, Mazzoldi's color pallet and soft modeling of form is reminiscent of the Old Masters of the Renaissance. A spiritual thinker who buries herself in each work of art, Mazzoldi …".
Although she is fundamentally romantic, she is also inspired by some expressionist paintings. Do you know Munch? What a wonderful expression of emotion! His painting "The Scream" vibrates. You can feel the despair, the terror!
It expresses more than a simple emotion. Try to master such an "emotion"! You don't get it! It expresses what I call "a force". Yet, her aim is to paint these "forces" and also the "games" (yes! just the ones of transactional analysis) that happen between them.
Read more about the forces    (it)
Read more about Games (it)